How did you hear about TFT Adopt-A-Spot program?
Through our partnerships with Houston-Galveston Area Council, Plastic Pollution Prevention Partnership and the Annual Trash Summit meetings.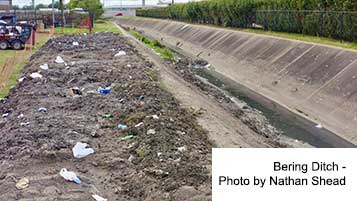 How many sites do you have? What is their size / cleanup area? When were they established?
We currently have two sites listed: Little White Oak Bayou (Woodland Park) and Bering Ditch. The sites were added in 2020.
Little White Oak Bayou is a 12-mile major tributary of White Oak Bayou, with a primary access point running through the 30-acre Woodland Park.

This site is a partnership with Friends of Woodland Park (FWP). This volunteer run nonprofit is the cleanup lead for this site and Bayou Preservation is filling the role of primary contact for adoption and clean up, in partnership with FWP.

Bering Ditch is 2.27 mile drainage channel just west of the Galleria that empties directly into Buffalo Bayou. Multiple sites.
How did you determine which sites you would submit to TFT Adopt-A-Spot? Did the sites require you to coordinate with landowners and / or local governments?
Bayou Preservation's Trash Free Bayous Committee focuses on an impressive amount of projects ranging from developing lasting litter and pollution prevention strategies, to collaborative research efforts with City of Houston's Community Health Improvement Plan (CHIP) – the latter of which resulted in the identification of two of Houston's most littered waterways for targeted action: Little White Oak Bayou and Bering Ditch.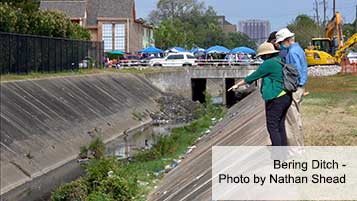 The reasons behind the excessive litter accumulation in these sites is broad and includes everything from transportation projects, natural geomorphology, lack of access to appropriate receptacles, and human behavior.
Our organization is committed to collaboration efforts. We often work with a broad network of partners, including government, private, and non-profit organization, to build cross-functional teams to provide project insight, context, preventive solutions, volunteers, and even species surveys for affected wildlife.
How many volunteers clean up your sites? How often? How did you find your volunteers?
The number of volunteers can vary greatly based on the location, from a single volunteer to upwards of 30. While some participants are interested in one-days of cleaning, we strongly encourage volunteer groups to clean up a spot at least quarterly, if not monthly. This ultimately results in better outcomes for the waterway and keep the group more engaged and connected with their environment.
We find our volunteers in several ways. While we are often approached by volunteers wanting to get involved with their nearest bayou, we also work hard behind the scenes through our Trash Free Bayous Committee and our Diversity, Equity, and Inclusion Task Force to identify communities and locations that are underserved.
We strive to spark a lasting connection in a community by meeting with local leaders and activists to examine long-term solutions, as opposed to coming in and cleaning up once. We fundamentally believe a single project well done outlasts projects designed to get big numbers quickly. While this certainly takes more time, we find that it is ultimately necessary for true litter prevention and long-term health of a community and environment.
What do you consider the biggest benefit to being affiliated with the TFT Adopt-A-Spot program?
To be effective, we must work together. Bayou Preservation Association prides itself on collaboration and strives to reduce redundancy and unnecessary competition. And as an organization with a regional, 3-tiered, 22-watershed focus, we recognize the power in uniting with a state-wide effort.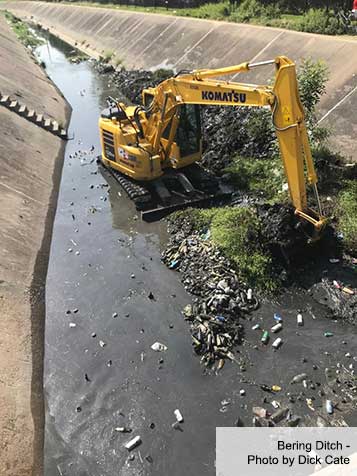 Litter is never someone else's problem; it is all of ours. At the end of the day, our collective goal is the same: take out the trash. And we are excited to be a part of TFT!
Are there any notable features about your cleanup sites?
While Bering Ditch might appear to be the most unassuming waterway on our list, a recent study by TIRZ 1 found that a staggering 1,000 people per day use it as a vital pedestrian corridor through their community. This is a perfect example of aspects that are often overlooked or ignored by governing entities when deciding what amenities a particular community will benefit from. In the case of Bering Ditch, it does not have a single trash receptible.